Coin "Thousand Hand Bodhisattva "
Please register to vote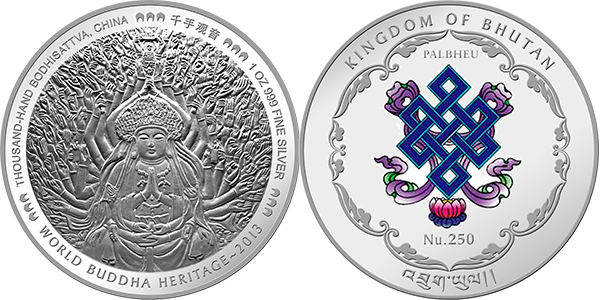 | | |
| --- | --- |
| Name | Thousand Hand Bodhisattva |
| Presented by | The Singapore Mint |
| Nominal value | 250 Nu (Kingdom of Bhutan) |
| Metal | Silver 999° |
| Weight | 31,104 g |
| Diameter | 40,70 mm |
| Thickness | 3,05 mm |
| Mintage | 10000 pcs. |
| Production quality | Proof quality with 1 side colour |
| Description of obverse and reverse | Obverse: with hands spreading out radially like the stunning plumage of the peacock, the magnificent Thousand-Hand Bodhisattva sits calmly in a meditating posture. An eye in each hand, while holding an array of sacred objects, the Bodhisattva exudes an impressive aura, reinforced by the intricate carving on the glistening silver coin. Reverse: the reverse features the «Endless Knot», one of the 8 auspicious elements in Buddhism. Possessing overlapping layers of knots with no beginning or end, the Palbheu represents the infinite wisdom of the Buddha, and the existence of everything as part of the web of karma and its effect in universe. |
| A brief annotation | The 6th coin of this World Buddha Heritage series. The Thousand- Hand Thousand-Eye Guan Yin Bodhisattva, is the world's largest rock carving Thousand-Hand Bodhisattva – Rock Carving No.8 of the UNESCO World HeritageSite Dazu Rock Carvings, in the rock grottoes of the Baoding Mountain, within Chongqing municipality. At 7.7meters high and 12.5 meters wide in a rock grotto, this benevolent Thousand-Hand Bodhisattva sits calmly with an eye in each hand in different positions, and holding different sacred vessels such as the treasure mirror, rosary, scarf, treasure vase, lotus and the treasure sword, representing the many abilities to watch out and render assistance to the people in the world. |
| Designer | The Singapore Mint |
| Producer | The Singapore Mint |
---

Beautiful.

Весьма экзотическая монета.

Интересно, создавая аверс, монетный двор Сингапура считал руки? Или в этом монетном дворе 500 человек и каждый нарисовал свои?

изображение Тысячерукого Бодхисаттвы подкачало, может в живую лучше смотрится

Очень красиво. Тысячерукий Бодхисаттва действительно великолепен.

монета редкой страны, с редким для нас сюжетом - поэтому привлекает несколько