Coin "Antero de Quental"
Please register to vote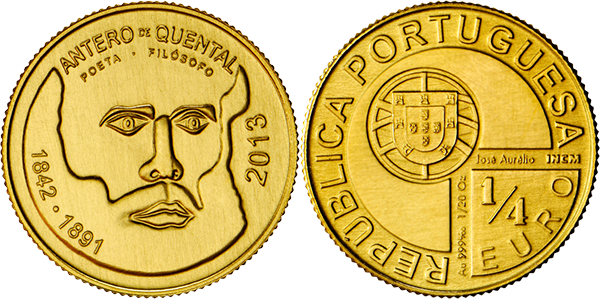 | | |
| --- | --- |
| Name | Antero de Quental |
| Presented by | The Organizing Committee of Coin Constellation - 2014 |
| Nominal value | 1/4 euro |
| Metal | Gold 999° |
| Weight | 1,56 g |
| Diameter | 14 mm |
| Mintage | 30 000 pcs. |
| Production quality | Brilliant Uncirculated |
| Description of obverse and reverse | The obverse: in the center there is a portrait of Portuguese poet Antero de Quental. In the upper part of the coin there is a two-line inscription engraved in a semicircle – «ANTERO DE QUENTAL», «POETA • FILÓSOFO». On the left – the years of Quental's life «1842 • 1891». On the right – the year of issue: «2013». Reverse: in the center there is a shield against on the background of the armillary sphere of the state coat of arms of Portugal, the metal specifications, the name of the designer and the mint mark. Along the edge of the coin there is a semicircular inscription – «REPÚBLICA PORTUGUESA». In the lower right part of the coin there is a visually isolated fragment representing a quarter in which there is a face value engraved in two lines – «1/4 EURO». |
| A brief annotation | This is the eighth coin of a series that will gather in nine gold commemorative collector coins nine historical figures, who played a decisive role in projecting Portugal in the World. Antero Tarquínio de Quental (Ponta Delgada, 18th of April 1842 – 11th of September 1891) became the symbol of a generation, the Generation of 70 or the Generation of Antero, and is an unavoidable reference in poetry, in philosophical essay writing and in journalism, but also in the struggle for freedom of thought and for social justice, in which he stood out as a noteworthy ideologist. |
| Designer | José Aurélio |
| Producer | Imprensa Nacional-Casa Da Moeda (Portugal) |
---

Что-то обозначить - тяжело. На мой взгляд.

за необычный номинал +, может и рф выпустит полушку когда набудь)

Для 1,56 г. нормальная монета.

Интересное воплощение образа поэта.

маленькая, да удаленькая и выглядит вполне, но смущает номинал))
в Ирландии золотые монетки еще меньше, но там номинал хотя бы 20 евро