Coin "Hypericum tetrapterum"
Please register to vote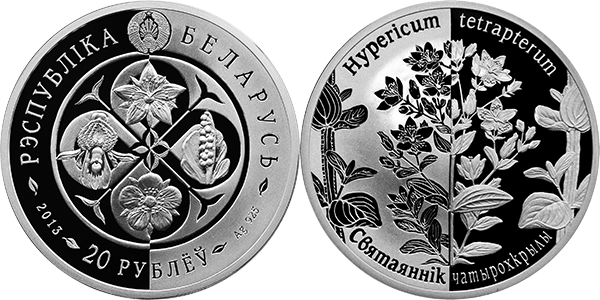 | | |
| --- | --- |
| Name | Hypericum tetrapterum |
| Presented by | National Bank of the Republic of Belarus |
| Nominal value | 20 belorussian rubles |
| Metal | Silver 925° |
| Weight | 33,63 g |
| Diameter | 38,61 mm |
| Mintage | 2000 pcs. |
| Production quality | Proof |
| Description of obverse and reverse | Obverse: at the top there is a relief image of the State Emblem of the Republic of Belarus, a circular inscription: «РЭСПУБЛІКА БЕЛАРУСЬ»; in the center in a circle there is a decorative composition in the form of the flower with four petals which shows the plants included in this series; at the bottom – the face value «20 РУБЛЁЎ»; on the left – the year of issue, to the right – the fineness. Reverse: in the center there is a relief image of a decorative plant Hypericum tetrapterum, on the right and on the left of which there are fragments of the stem of the plant with its distinctive features; inscriptions along the rim: at the top – «HYPERICUM TETRAPTERUM», at the bottom – «СВЯТАЯННІК ЧАТЫРОХКРЫЛЫ». |
| A brief annotation | The Series «Адроджаныя расліны» (Regenerated plants) made by the National Bank of the Republic of Belarus in cooperation with the United Nations Development Programme, the Global Environment Fund, the National Academy of Sciences and the Ministry of Natural Resources and Environmental Protection of the Republic of Belarus within the framework of the project «Integration of biodiversity into policy and practice of the territorial planning in Belarus». The fact that some plants grow in Belarus has long been known only from scientific sources – herbaria or scientific publications. In practice, the scientists could not find the places of their growing for 100-150 years. However, as a result of studies in recent years, biologists have found the locus of some of these species, in particular: Hypericum tetrapterum, rock potentilla, Botrýchium símplex, Epipógium aphýllum. These places of the locus are sporadic and small. These «returnees» plants need extra protection. |
| Designer | Svetlana Nekrasova (The Republic of Belarus) |
| Producer | The Kazakhstan Mint |
---

Оригинальность полупруфа - полу реверс-пруфа очевидна, причем на аверсе и реверсе зеркально. Одобряю.

Без ранжирования - пусть будет шестая лучшая монета созвездия. Просто понравилась.

Зеркальность изображения единственный плюс монеты

Да, неплохая монета, мне нравится.

Ну, растения меня никогда не впечатляли на монетах. Но зверобой получился похожим на оригинал.

необычно, радует глаз