Месопотамия
Для участия в голосовании зарегистрируйтесь на сайте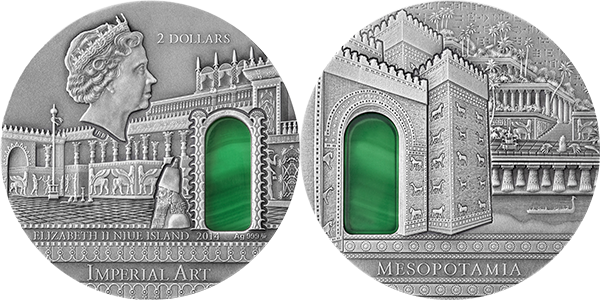 | | |
| --- | --- |
| Монету представляет | Монетный двор Польши |
| Номинал | 2 доллара (Остров Ниуэ) |
| Металл, из которого выполнена монета | Серебро 999-й пробы |
| Вес | 62,20 г |
| Диаметр | 50,00 мм |
| Тираж | 500 шт. |
| Качество (технология) изготовления | Стандарт, античная отделка, горельеф, вставка – зеленый агат |
| Описание изображений аверса и реверса | Аверс: в центральной части монеты – дворец Саргона II в Хорсабаде (бывший Дур-Шаррукин) со вставкой зеленого агата в его воротах; ламассу (божество изображается в виде быка с головой человека) и бюст ассирийского царя Саргона II. В верхней части монеты, слева: портрет Её Величества королевы Елизаветы II. Рядом с ним, справа – номинальная стоимость: «2 DOLLARS». Ниже – надписи: «ELIZABETH II, NIUE ISLAND» (эмитент), «2014» (год выпуска), «Ag 999» (проба). Между декоративными лентами – надпись: «IMPERIALART» (название серии). Реверс: на переднем плане – ворота Иштар со вставкой зеленого агата и река Евфрат. В заднем плане – висячие сады Семирамиды (одно из семи чудес древнего мира). Над ними – фрагмент кодекса Хаммурапи (вписан клинописью). В нижней части монеты, между декоративными лентами, – надпись: «MESOPOTAMIA». |
| Краткая аннотация | Серия «Имперское искусство» посвящена наиболее развитым древним цивилизациям и их культурному наследию, искусству и архитектуре. Монета «Месопотамия» отражает истинную красоту Месопотамии, широко упоминающуюся как «колыбель цивилизации». Вставка зеленого агата подчеркивает процветания висячих садов Вавилона и плодородие почвы. Богатство украшений свидетельствует о красоте архитектуры Месопотамии. |
| Автор монеты | Беата Кулежа-Дамажьяк |
| Где была отчеканена монета | Монетный двор Польши |
---

Beautiful coin.

The most impressive series of coins based on the chosen theme.
I think that the choice of topics Known Empire - is a very smart and a great idea!
Detailed relief and the amount of details on the Mesopotamia coin is a very important success factors, in addition to the selected topic! Great work!

Наиболее впечатляющую серию монет на основе выбранной темы.
Я думаю, что выбор темы Известные Империи - является очень умным и прекрасной идеей!
Детальная проработка рельефа и количество деталей на данной монеты, является очень важными факторами успеха, помимо выбранной тематики! Отличная работа!

Very beautiful coin, one of the best of 2014. Looking forward for next coin in series!

Bardzo oryginalna moneta.

Класс! Аверс и реверс как бы дополняют картинку вс единую панораму! Симпатично смотрится агат, единственное его бы я разместил только на одной из сторон монеты
Высокая детализация изображений , не уродуют , а украшают эту монету и составляют единое , цельное дизайнерское решение . Вставка агата придает изысканный , неповторимый шарм этой монете . Она просто красива .
Монеты из этой серии смотрятся хорошо